Salve Håkedal
Jump to navigation
Jump to search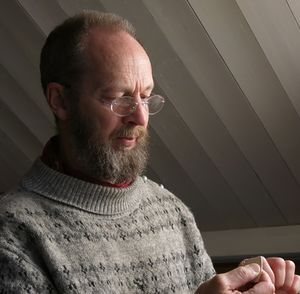 In 2010 I was happy to recieve an email from Daniel Trueman. He'd got my name from Vidar Lande.
Daniel wrote: "... I am writing to ask some questions about a possible instrument; i am not sure i'll be able to go forward with having one made, but i'd like to see what might be possible. In particular, i'm interested in a 5-string fiddle, inspired by the Setestalfeles that Vidar has told me about -- intended to be tuned a little lower than the hardanger fiddle, a bit of a fatter sound, but still with the sympathetic strings of course, ... ... Is this something you might be interested in doing? ... "
Of course I was interested!
A normal hardanger fiddle (or setesdal/bastard fiddle) has a string length of around 30mm, and is mostly tuned 1 step higher than a violin. The violin string length is around 33mm. After some thinking, I sketched a fiddle with the lengthwise proportions of a hardanger fiddle, but enlarged enough to reach the string length of a violin. That would make it suited for tuning to normal violin pitch. But at the same time, the larger body would hopefully give a 5th string a somewhat viola-like sound.
When Daniel came to get it, it fell quite nicely into his hands, and he said something like "just wait until a certain person tries this". I hardly could make Daniel sit down for a loaf of bread and cup of tea, before he ran off to Ireland with it!
The rest is ... hmm, what can I say? Definitely beyond my control!
Notes