Laghdú
Jump to navigation
Jump to search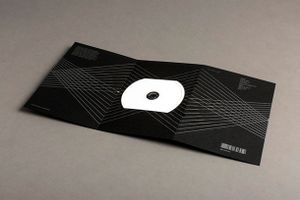 Laghdú is a recording by Dan Trueman and Caoimhín Ó Raghallaigh released in 2014.
It contains 11 tracks, all of which feature the hardanger d'Amore. Most tracks feature two hardanger d'amore's, while the remainder use one hardanger d'amore along with one hardanger fiddle.
Meaning
As described on the album's website:[1]
Laghdú, the title of this album by Caoimhín Ó Raghallaigh and Dan Trueman, translates as a lessening, a decrease, a reduction.

The music they have written stretches and abstracts the DNA of Norwegian and Irish fiddling; the result is something new, sparse and stunning. It ranges from the near-silent to the nigh-on orchestral, at times exploding joyously from their two beautiful hybrid 10-string fiddles, at times barely there, holding time still.
Recording
The album was recorded at the Taplin Auditorium in Princeton University by Andrés Villalta.
Design
The album package was designed by Rossi Mac Auley of Distinctive Repetition, a graphic design company in Dublin, Ireland. The lines on the package represent the 20 strings of the two hardanger d'amore fiddle, with 10 going in one direction, 10 going in another direction. There are also a further twenty 'strings' embossed into the paper.
Tracklist
Videos
Notes